Energy Efficiency
The purpose of energy efficiency is to reduce the primary energy consumption of industrial sites and, as a result, their greenhouse gas emissions. This decarbonisation lever is at the heart of ALLICE's activity.
Production system design has a strong influence on energy performance at different scales: the technology itself, the plant system and the industrial site within its territory.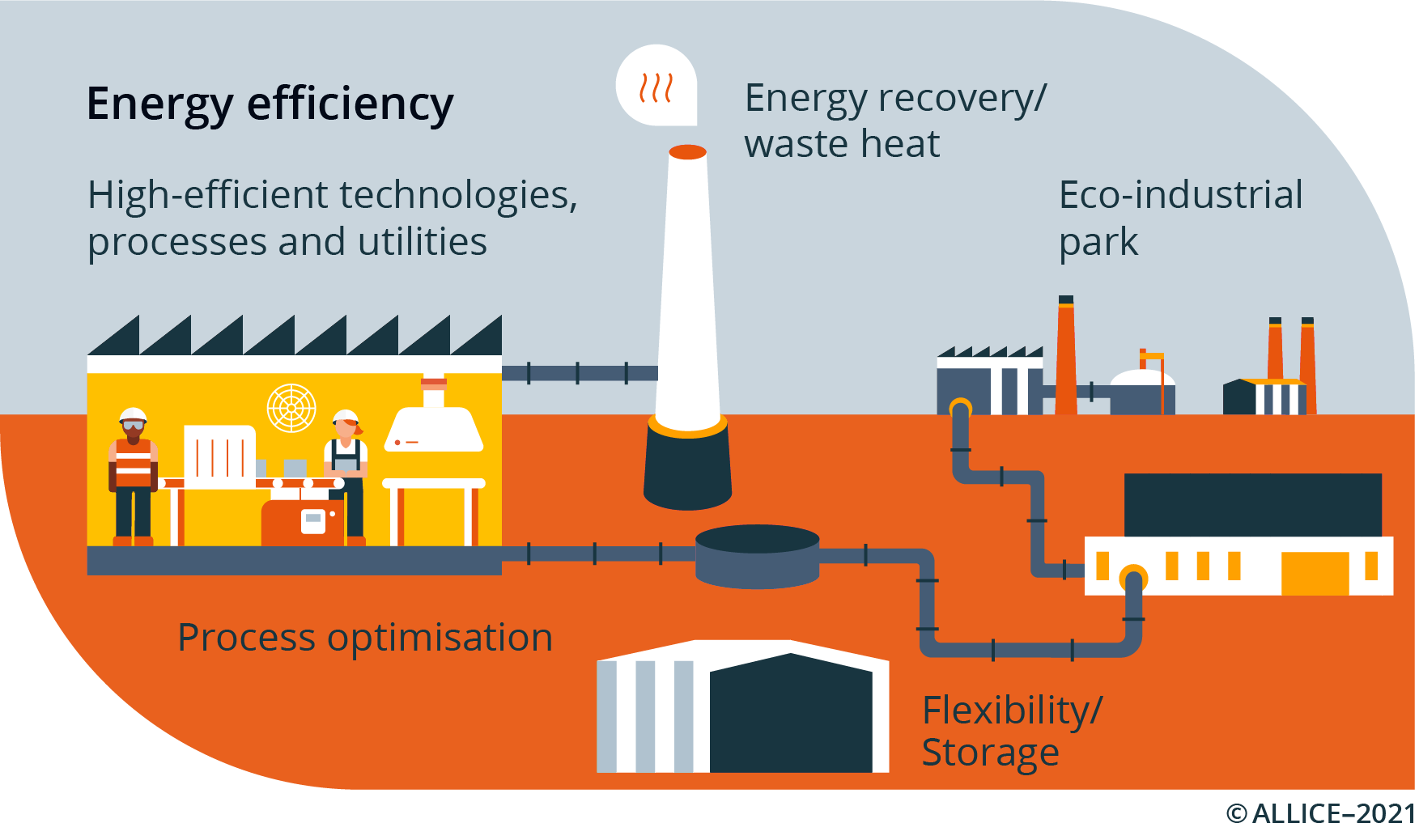 The technology and process scale
Improving energy efficiency involves improving the components that make up an industrial process or utility, such as a heat exchanger, a boiler, a furnace, a compressor, a pump, a heat engine, etc. Optimizing the performance of energy-intensive technological building blocks is a first lever for accelerating energy transition. Improving energy efficiency also involves working on the unitary operation itself, by proposing new concepts or improving the core process.

ALLICE has carried out various actions at this very detailed and efficient scale.

Several studies or state of the art overviews on topics such as:


Efficient cooling in industry
Mature and emerging solutions for very high temperature heat pumps
Heat storage technologies in industry
The performance of heat exchangers used in industrial processes
Technologies (advanced and alternative) for cold production
Modelling of drying phenomena in an industrial convective dryer
The organization of technical days or participation in days organized by partners:


A seminar on high-temperature heat pumps: market developments, technological offer adapted to industry, integration conditions so that the potential gain is reflected in the industrial site's energy balance
Webinars on efficient refrigeration in industry: innovative technologies, concrete feedback and impact of the human factor
Report on a technical day organised by Axelera on separation processes
Report on the 47th Technical Day of the International Flame Research Foundation (IFRF) on the topic of additive manufacturing for combustion applications
In 2022, the work continues with:


A study on the different solutions available for the decarbonation and energy efficiency of specific unitary operations.
A state of the art overview of efficient ventilation technologies
The plant and process scale: a systemic approach
To reduce energy consumption and decarbonize the operation of an entire site, it's also possible to act at the process or workshop structure level. This approach, known as systemic analysis, consists of graphic or mathematical methodologies used to optimize the design or structure of an existing process. It concerns for example:


The optimal integration of unitary operations, such as drying
The implementation of energy and heat recovery solutions
The development of local storage and distribution networks (using vectors such as hydrogen)
The optimization of energy networks
Flexibility so that the plant can respond to demand fluctuations and adapt its energy consumption to distribution network availability. This flexibility can even lead to load shedding that can be offset by self-generation.
ALLICE has run several projects at this scale, including:


A state of the art overview of heat to power technologies - publication pending
A study on very high temperature heat recovery (>200C°) - publication pending
A study on heat recovery from industrial fumes
A study on the potential of heat storage in industry
A technical day on system analysis methodology and optimal process/site design
A Club PRIME (members' club) session on data analysis methodology to identify steady-state regimes for industrial processes and possible applications.
In 2022, ALLICE will publish:


A study on sucess factors for the implementation of industrial projects of waste heat recovery.
The eco-industrial park scale: the industrial site in its territory
The latest level of reflection to improve the energy efficiency of a factory consists in
analysing the possible synergies with its territory
. This approach, already present in certain geographical areas such as Northern Europe, Korea or China, is now developing in France:
industrial and territorial ecology is one of the 7 pillars of the circular economy
.
Complexity generated by the presence of many companies makes it necessary to develop specific methodologies. Among others, strong criteria such as flexibility or resilience in case of the failure of one of the actors become fundamental.
During its Club Primes, ALLICE shares experiences with its members, for example, EDF's consideration of Industrial and Territorial Ecology in its activity, OSIRIS Economic Interest Group's experience with synergies on the Roussillon platform, or the presentation by Kalundborg Symbiosis of the operation of the Kalundborg eco-industrial park (Denmark).
In 2021, ALLICE conducted a state of the art overview on the models that can promote the emergence of industrial eco-industrial parks.